Senior Member
Join Date: Aug 2009
Location: USA
Posts: 170
'04 ZX12R with 1427cc Muzzy bore kit
---
I am not sure if any of you seen this....incredible bike ZX15R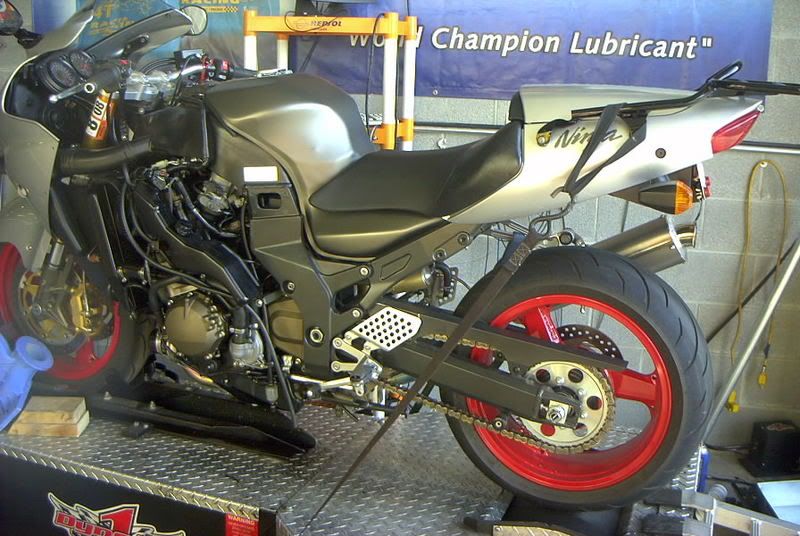 Power: 201.8 HP @ 10,400 rpm (standard = 163.4)
Torque: 118.7 ft.-lb. @ 7,800 rpm (standard = 86.7)
2004 Kawasaki ZX-12R - fuel Injected Sport Bike - 8400 miles
- Muzzy 1427cc big bore and stroker kit
New crankshaft, pistons and billet cylinder barrel
- Balance shaft removed to reduce engine parasitic friction
- Muzzy Titanium exhaust pipe and muffler
- Dynojet Power Commander III
+ chassis dyno engine recalibration & mapping
- HELI Bars to raise handle bars about an inch.
After all, itís a street bike and its gotta be comfortable!
- Re-geared for higher speed/lower engine rpm.
Rear sprocket changed from 46 to 44 teeth
- Full safety wire and other changes
to meet East Coast Timing Assoc. rules
- 201.8 horsepower at the rear wheel (about 220 at the crankshaft)
Combined with a rider having good aerodynamic form, this gave 202.7 miles per hour
and incredible acceleration!
Speed certified by East Coast Timing Association at MAXTON, North Carolina
---
2004 Galaxy Silver Ninja ZX12R
How fast? Will blow you mind